تحذير: لم تُتَرجَم هذه الصفحة بعد. ما تراه أدناه هو النسخة الأصلية للصفحة. من فضلك راجع هذه الصفحة لتعرف كيف تساهم في الترجمة والمهام الأخرى.
Free Your Android! - Artwork
We made some advocacy artwork that you can use to promote the Free Your Android campaign. Please translate it into your native language and send it to us. FSFE can help you to print your translated versions of this artwork. We also have English and German versions available. If you want to spread it in your region, let us know and we mail it to you.
Flyers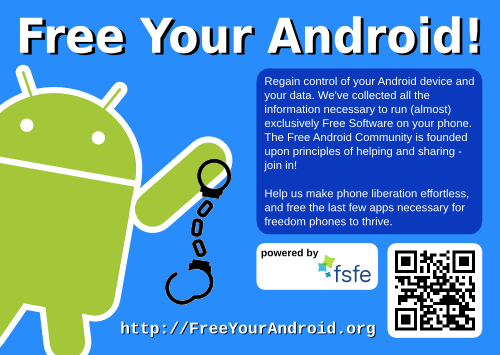 English (source) | Deutsch (source) | Ελληνικά (source) | Français (source) | Español (source) | Italiano (source)
Posters
Stickers
This sticker is meant to be put on liberated phones