Spread the word!
You are here because, like us, you care about Free Software. We need your help to spread the word about the advantages of using Free Software, and help convince others that they should care too. Advocating for Free Software is easy and arguably one of the best ways to help the Free Software movement.
Our Logo
License: The logo of the FSFE must never be used in a way that could be understood as endorsing certain activities, home pages, products or entities without prior consent of the FSFE. Please contact team@fsfeurope.org if you wish to know whether your intended usage is suitable.
Booth Banners
Give these files to a printing company to make your own FSFE booth / trade-show banners. Be aware that some printers will ignore transparency if you provide them with a PDF file, and this will cause the waves graphic on the right hand side of the banner to be merged into blocks of solid colour. Using a different file format can prevent this problem.
Stands for Free Software CDs
You may wish to use a CD stand to present your discs on stalls or in public places. The stand linked below can be made by you using a sheet of paper and two pieces of sticky tape. It can hold approximately fifteen CDs or DVDs in thin plastic cases. It can be used for any GNU/Linux distribution, and provides space to list your team's contact details.
Instructions: for best results use photo paper. Print on both sides ('front' on shiny side and 'back' on the reverse). Cut along the indicated lines and fold along the solid grey lines. Stick together the side flaps to complete construction.
Below are stands and inlays designed for the Free Software for Windows CD (FSWIN CD), which contains only Free Software, with a navigation interface, easy installation, and a catalogue of information and screenshots for each application.
Stickers
Web Buttons
Show your support for Free Software by adding one of these buttons to your website or blog. Paste the code provided into your files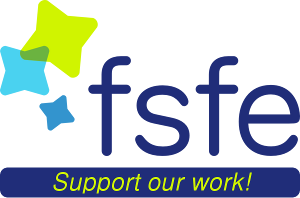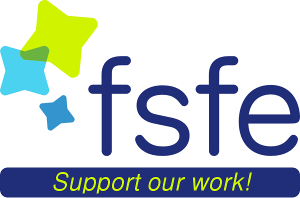 Posters
Newsletter buttons
The artworks listed here aim at promoting FSFE's Newsletter. This monthly publication is a way to let people know what activities FSFE is involved in and to keep them always up to date.
Micro-buttons
"Created with Free Software"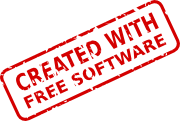 See more colors