Amandine "Cryptie"
This page is part of a series of interviews with FSFE supporters and friends that have been made to give an idea about the diverse people and volunteers who form the FSFE community across Europe. You find more interviews, videos and testimonials on our testimonials page
"I am Cryptie, I am living in Paris, France. I used to be a cryptographer and now I am a privacy specialist. I consciously use Free Software for 15 years now. I discovered the FSFE randomly, I found the FSFE website and just loved this idea of counter-lobbying. I am a supporter of the FSFE for already 6 years now."
"The FSFE and me in 30 seconds"
Short Interview with Cryptie (2019)
FSFE: Beyond supporting the FSFE, you also engage as a volunteer. What are you doing for FSFE?
Amandine "Cryptie": In February 2013, I discovered the "I love Free Software" campaign and I just had to get a French version. This is how I joined the translation team, which I never really left.
In July 2013, I met my first "FSFE person", Rainer, at our booth in Brussel for the RMLL2013. Rainer needed some help thus I helped. I loved the ambiance so I stayed. I am now a regular volunteer at FOSDEM booths and even managed the RMLL ones for the second time this summer.
Finally, I joined the GA in September 2017.
What is the most fun part about engaging for the FSFE?
I love translating and volunteering at booths but, to be honest, the best thing is the FSFE community parties at the end of any FSFE event: Our community comes from all over Europe (and sometimes even beyond) and it's nice to engage with others, exchange ideas and means to promote Free Software or just share a nice time together.
What is your favourite FSFE campaign at the moment?
No hesitation : "I love Free Software".This campaign is so positive, it reminds each of us that Free Software won't exist without the volunteers behind it.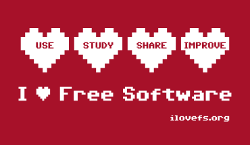 In one sentence: What is the biggest benefit of Free Software?
Free Software is a key factor to provide privacy which is needed to live in a free world.
And what is the biggest benefit of Free Software regarding security?
Free Software is auditable thus you can check if it uses outdated non-secure algorithms or state of the art ones. Even better, if it is important software for you, you can help (as an expert or by giving money to crowdfunding) to replace the bad code.
What is your favourite Free Software?
This one is very tough. I could not survive without "Nextcloud" and "Keepass", thus one of them? :)
Is there anything you believe the FSFE should improve or begin working on next? Any wishes for the future?
I hope that more and more people will understand the importance of being ethical in their digital life and thus consciously use Free Software and that we will have more and more volunteers from all over Europe.