Ada & Zangemann - A Tale of Software, Skateboards, and Raspberry Ice Cream
Here you find additional information and resources about the book "Ada & Zangemann - A Tale of Software, Skateboards, and Raspberry Ice Cream" by Matthias Kirschner and Sandra Brandstätter.
About the book
The famous inventor Zangemann lives in a huge villa high above the city. Adults and children alike love his inventions and are desperate to have them. But then something happens: when Zangemann wants to take another close-up look at his inventions during a walk through the city, a child hits him in the shin with the skateboard. That hurts! Enraged, the inventor makes a momentous decision... The clever girl Ada sees through what is going on. Together with her friends, she forges a plan.

This illustrated book tells the story of the famous inventor Zangemann and the girl Ada, a curious tinkerer. Ada begins to experiment with hardware and software, and in the process realises how crucial it is for her and others to control technology.

A book that arouses children's interest in tinkering and encourages shaping technology. From age 6 to 106.
The book is currently available:
Book Reviews
"A rousing tale of self-reliance, community, and standing up to bullies." - Cory Doctorow, Sci-Fi Author

"Introduces readers young and old to the power and peril of software." - Vint Cerf, Computer Scientist and One of the Inventors of the Internet

"The book is a motivation for the first demo and a little bit of civil disobedience. It is a utopia of possibilities to make the world better with limited means and little money, and an example without moralistic finger-pointing, that control does not make happy." - Anna Biselli, Editor-in-Chief Netzpolitik.org

"Even as a non-child, I was captivated by the story from the first page to the last. Kudos to the author for packaging difficult topics such as monopolies, lobbyism, digital divide, software freedom, digital autonomy, IoT, consumer control, e-waste and much more in a child-friendly form in an easily understandable and exciting storyline." - Jörg Luther, chief editor of the German Linux-Magazin, LinuxUser, Raspberry Pi Geek

"What a fun read! I recognize myself in Ada at many moments." - Isabela Fernandes, Executive Director, The Tor project

"I love this book and I love that it can be shared and translated and adapted easily because licensed freely under a Creative Commons license (BY-SA)." - Lawrence Lessig, Founder of Creative Commons
"Ada & Zangemann brings a highly topical, technically relevant subject to children." - Catharina Maracke, Chair of the Board, Open Source Initiative

"Software freedom is a critical component to having technology that we can rely on as a society, and it never is too early to learn about why it is so important. I can't wait to read this book to my kids!" - Karen Sandler, Executive Director, Software Freedom Conservancy

"In this hopeful story Ada and her friends join a movement that started back in 1983. Their courageous adventure of software freedom and learning how technology works is a wonderful way to introduce young people everywhere to the joys of tinkering!" - Zoë Kooyman, Executive Director, Free Software Foundation
Book readings
The author Matthias Kirschner has already given several readings of the book: At events for children and adults (from 6 to 106 years), in school classes, libraries and on other occasions. If you are are interested in a reading by the author or in other available languages by FSFE volunteers, please contact us at contact@fsfe.org.
How to learn coding?
There are many resources out which help young people to learn programming. Our community is gathering more information about that topic on our wiki page, and we invite you to help us with amending and keeping this up-to-date.
Stickers and postcards for all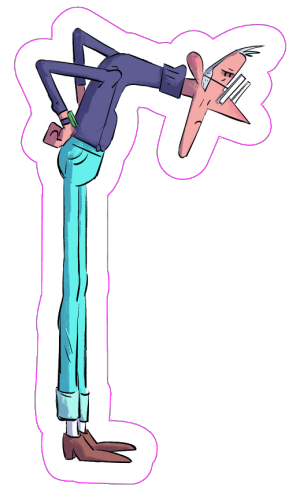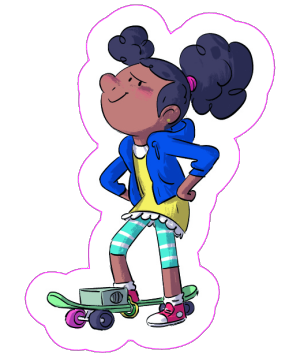 We provide some "Ada & Zangemann" stickers. You can order them at no cost on our information material page. Get them all!
Get active
Would you like to raise awareness for software freedom? If you liked the book, here are some ideas.
Suggest the book to your public library. Often you can recommend new books to libraries.
Donate the book to a public library. This is a good option for cases when a library does not have the budget to buy the book, but you can afford it. Your copy will make many people happy.
Give your feedback to bookstores about the book, so they recommend it to others.
Write a review if you bought the book online.
Offer schools, youth clubs or elderly homes to read the book there. They often ask for people reading books and it is a good way to talk about software freedom. These slides can be used as a background while you read with a projector.
Dive into software freedom
You would like to receive news about "Ada & Zangemann", for example about new stickers or other materials, new translations, or other information about the book? You can subscribe to the FSFE's mailings and not miss this information as well as also receiving general information about software freedom and the FSFE's work.
Already a teenager?
Graphic by Lisa Schmidt, CC-BY-SA 4.0
For teenagers who are already experienced in programming, the FSFE is organising the "Youth hacking for freedom" coding competition. Please help us to promote this activity and encourage teenagers to start programming.